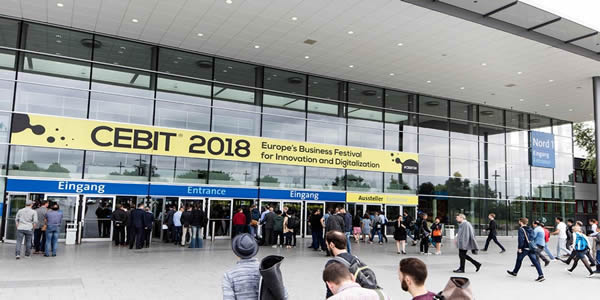 CeBIT is the largest and most internationally representative computer expo. The trade fair is held each year on the Hanover fairground, the world's largest fairground, in Hanover, Germany. It is considered a barometer of current trends and a measure of the state of the art in information technology. From the time of visit there was lot to be seen like big companies oriented for B2B, companies like IBM, Volkswagen, Huawei and much more. The most interesting part to be seen was in the hall 27 where were presented a lot of VR's and worth to mention the VR football table, also a lot of other AR's, smart drones and robots. There was a hall for startup companies, and jobs & carrier opportunities. Deutsch Vodafone had their vision and show for the upcoming 5G network and most interesting for seeing was a hoist truck to move a container via remote control by using 5G network in real time with live camera coverage. There was also very thrilling to be seen an autonomous electric bus, robotic car and first electric drone taxi from intel for people transportation. Besides things to be seen there were a lot of topics for discussion, lecture, talk, keynote for IOT, Blockchain, Artificial intelligence, Quantum computing, The future of software, AR and VR what is ahead, Future of robotics and more.

The following article is taken from Cebit website as press report which is worth reading as a total summarize from the Cebit exhibition.

This year at CEBIT 2018, everything was geared to generating business, leads and bright ideas. The starting dates were moved a bit later starting from 11th-15th of June 2018 than before when was held on March. As a triple-punch event featuring exhibits, conferences and networking, CEBIT covers the digitization of business, government and society from every angle.
It was based into four sections - d!conomy, d!tec, d!talk and d!campus.
The innovations on display in the d!conomy section of the show give IT professionals and decision-makers, trade and the public sector the tools they need to streamline and futureproof their operations.

The event's d!tec showcase puts the spotlight on developers and startups.

The d!talk conference program features visionaries, lateral thinkers, creatives and experts.

The d!campus is heart of CEBIT - relaxed networking, street food and live music.
1) The Cebit fair duration was for 5 days:
The first day of CEBIT 2018 - Monday, 11 June was held in Convention center just for Conference attendees and journalists, and starting topics as introduction and welcoming but with no exhibitions.
2) From 2nd until 5th day exhibition halls were opened and most popular topics were presented:
Artificial intelligence
Self-learning systems were a beacon theme at this year's CEBIT. Hewlett Packard Enterprise demonstrated how computers will soon be able to compare millions of disease symptoms from a multitude of different sources in order to identify the ideal medication for a particular patient. At the IBM stand, visitors were introduced to a smart assistant, equipped with voice control, cameras and sensors, that is supporting the German astronaut Alexander Gerst during his mission on the ISS space station. AI technologies are also delivering real benefits in the digital workspace: assistants like Alexa or chatbots respond to human voice instructions to simplify the operation of many new software tools. Numerous exhibitors were also presenting solutions with 360-degree output for complete processes. One of the key topics in this context was data security. Given that many dangerous attacks originate from employee workstations, several exhibitors presented automated security concepts.
Robotics
Artificial intelligence looks even more impressive when manifested in quasi-human form. The humanoid robot "Pepper" from SoftBank Robotics reacts to human feelings and answers questions on products and services. At the interface between research and industry, research institutions were also present at CEBIT to showcase their latest innovations. The Karlsruhe Institute for Technology (KIT) presented its "ARMAR-6" robot, which assists its human colleagues in operating power drills and is also capable of learning how to use new tools through simple observation. The efficient and reliable collaboration between humans and robots in an Industry 4.0 production setting was the subject of an exhibit by the German Research Center for Artificial Intelligence (DFKI). A standout highlight at this year's CEBIT was the visionary keynote from Marc Raibert, founder and CEO of the U.S. firm Boston Dynamics, who illustrated the incredible opportunities that are now within reach via a four-legged robot dog, which is capable of moving autonomously over rough terrain.
(report regarding robotics)
Internet of Things
With the advent of 5G technology, mobile wireless data is now about to take a quantum leap. Real-time data communications now make it possible to instantly implement many of the brand-new IoT applications debuting at this year's CEBIT. The display at the Vodafone stand for instance showed visitors how 5G wireless-connected robots are able to learn from each other, even when physically separated by hundreds of kilometers. In the future, the Internet of Things will even include sensor-equipped truck tires, offering fleet operators the opportunity to remotely monitor temperatures and pressures using an app. The themes of "Predictive Maintenance" and the "Smart City" were also prominent during the week's event in Hannover. Huawei presented its intelligent nervous system for metropolitan areas to reduce the problem of increased traffic volumes and environmental pollution. Meanwhile, Software AG showcased a process for dramatically improving waste disposal and the maintenance of faulty street lights, with smart sensors on trashcans and connected street lighting concepts.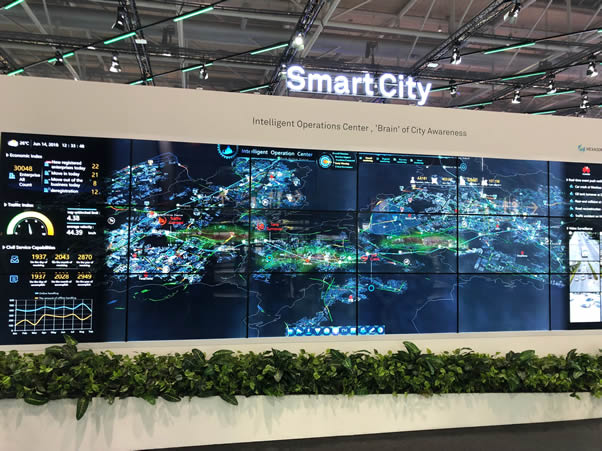 (Huawei - smart city)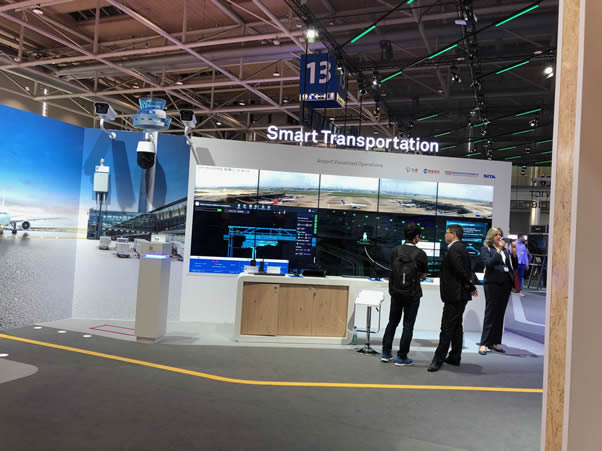 (Huawei - smart transportation)
Future mobility
In Hall 25, the focus was on smart mobility concepts. Volkswagen was celebrating a world premiere with its "Sedric Active" robot car. The group plans to implement the vision of "pushbutton mobility" within a few years. Along with autonomous driving, the displays also focused on topics such as quantum computing and car sharing. The General German Automobile Club (ADAC) presented itself on the scale 11 startup platform as a host for startups and young companies in the mobility sector, while Deutsche Bahn unveiled the regional train of the future, featuring multimedia passenger services. Innovative electric mobility ideas were on display at the e.Go and IONITY stands, with an autonomous electric bus and a virtual reality trip into the e-mobility of the future.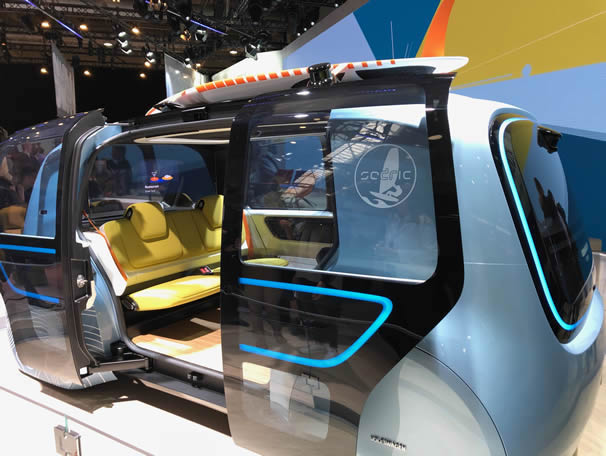 (Sedric Active - robot car)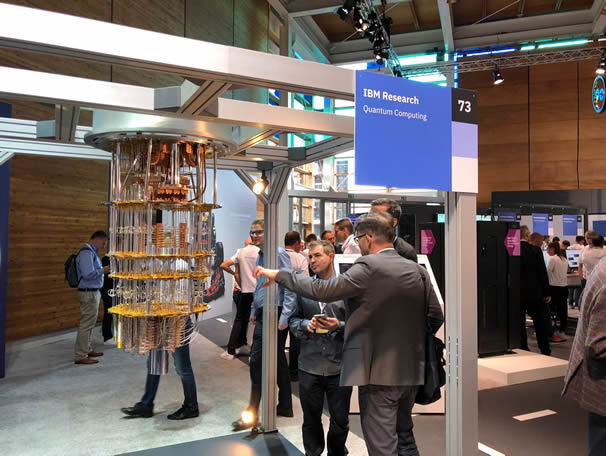 (IBM research - quantum computing)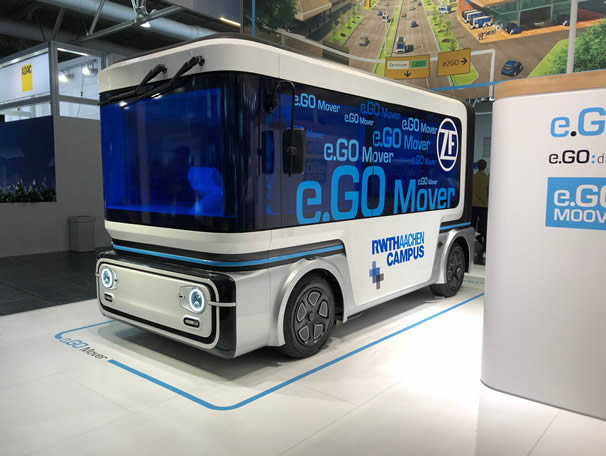 (autonomous electric bus)
Drones & unmanned systems
Along with displays showcasing themes like "unmanned flying" and "drones for wildlife protection," visitors also had access to experts for background information and advice. Visitors to the Intel stand were treated to a display of the first drone taxi, the "Volocopter", which has already been granted certification for manned flights. Another drawing card was the nightly flight show on the d!campus, with 300 LED-equipped drones creating a stunning spectacle in the nocturnal sky.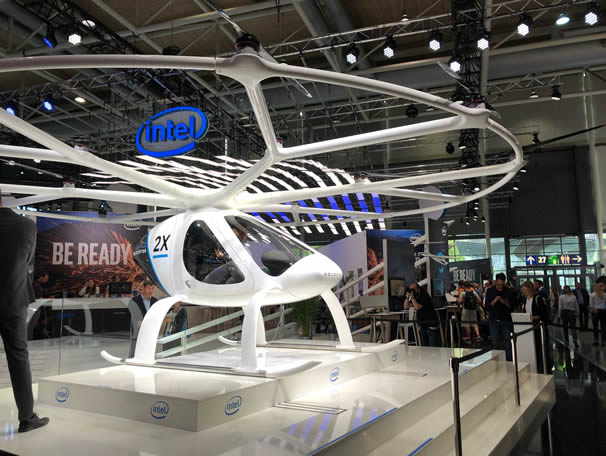 (Intel - first drone taxi)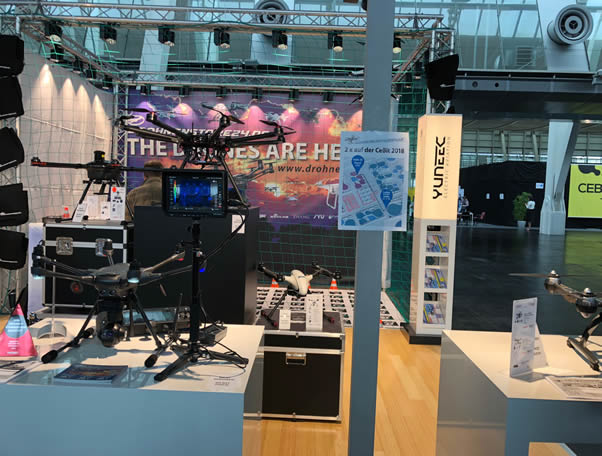 (powerful drones)
(report regarding drones)
(intel 300 drone light show)
Blockchain
Another vigorously debated theme at this CEBIT was the blockchain. Several companies featured exhibits demonstrating that this technology is suitable for secure data transmission in the IoT, and also for renewable energy trading or car-sharing services. Even administrative actors can benefit from the blockchain, as demonstrated by Materna, with its concept of a continuously updated fine particulates map based on citizen input. In a showcase of a slightly different kind, DXC Technology displayed a robot mixing drinks that had been ordered using a blockchain-based order chain.
(report about blockchain)
Further highlights: Top speakers, startups and influencers
From internet pioneer Jaron Lanier, the man who denounced the business model of the giant Internet companies, to "memory hacker" Julia Shaw, who revealed how human memory can be manipulated, and the security expert Mikka Hyppönen, who drew attention to qualitatively new forms of cyberattack ("to protect sensitive data from unauthorized access it is not enough to put it in a safe - we also need motion sensors inside the safe") - this year's CEBIT offered an unprecedented array of outstanding lectures and presentations.
A wealth of new ideas was also forthcoming from the scale11 startup platform, which has established CEBIT as Europe's leading startup event. In Hall 27, more than 350 young enterprises from 40 nations were able to meet establish ed major players and capital investors. The CEBIT Innovation Award for 2018 was won by the German startup AIPARK, with its eponymous app showing automobile drivers where free parking spaces are located on a dynamic map.
As well as being a high-caliber business event, the new-look CEBIT was a festival for everyone, featuring outdoor concerts by musicians like Jan Delay, Mando Diao and the Giant Rooks, along with other performing acts and DJ sets.
Conclusion
The new, revamped CEBIT enjoyed a successful premiere, as more than 2,800 participating companies, over 600 speakers on ten stages, and 370 startups from Europe, Africa and Asia turned Hannover into the world's digitization hotspot over a five-day period. Achim Berg, President of the German Association for Information Technology (Bitkom) set the tone for the event on "Welcome Night" on 11 June: "We are living in exciting times, with our boldest fantasies being overtaken by actual developments at breakneck speed!". A high-visibility emblem of this phenomenon was the 60-meter tall Ferris wheel erected by SAP, with 40 passenger cabins which, apart from providing a unique aerial view of the digitization festival, showcased concrete examples of AI, IoT and other phenomena.
(cebit summary)
See you next year at CeBIT!
Source: https://www.cebit.de/en/press/press-releases/article_31107